Geosciences
Bachelor of Science
Geoscience is the scientific study of the Earth and how it works. You'll learn how our planet and its life forms have changed through time.
Well-trained geoscientists can help the nation and the world chart an environmentally and economically sound course into the future.
A unique place to do fieldwork
You'll spend a lot of time outdoors as a geosciences major, as extensive fieldwork among Southern California's unique geological features will make up a large part of your learning.
Get to know the specialities of your field
Your courses will familiarize you with current developments and techniques within the standard geosciences subdisciplines. These include mineralogy, petrology, paleontology, structural geology, stratigraphy and sedimentology.
An interconnected discipline
You'll work closely with other related disciplines — chemistry, physics, biology, mathematics, and geography — as you expand your knowledge on exploring for energy and economic resources, analyzing geologic hazards, and mitigating the human impact on the environment.
Meaningful research that connects to your future
Doing research in a field you are passionate about gives you valuable and relevant experience for your future career. Prior student research projects have included:
A study of the Miocene Ricardo Formation in Red Rock Canyon State Park by a student who now works as an exploration geologist for Exxon/Mobil.
A study of the vertebral column of the beaked whale Mesoplodon europaeus by a student who is now pursuing a Ph.D. in vertebrate paleontology at the University of Michigan.
---
Programs
Offered as a major (BS) and a minor.
Popular Minor Pairings
Want to learn more?
Let us know and we'll send you information about our academics, campus life, admission process, and more!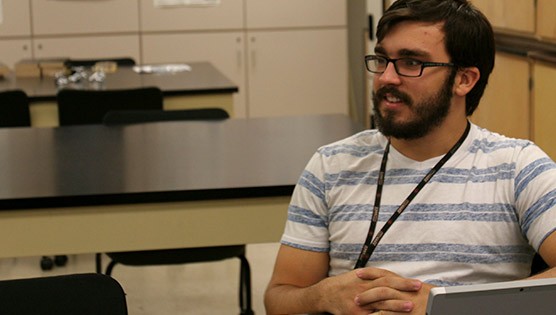 Being able to work hands-on with all of my professors has really allowed me to develop my skills in geology. I am able to constantly talk to them, get advice, and share ideas of what I would like to do. That has helped me a lot in making decisions.

William Zimmerle '16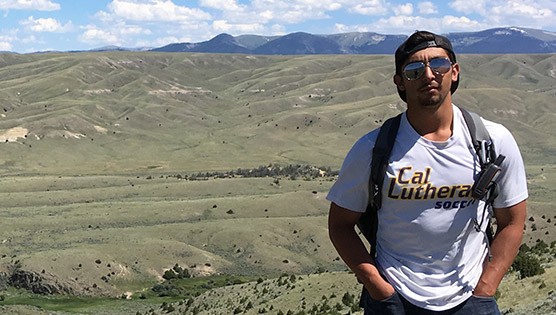 My internship with the Bureau of Ocean and Energy Management prepared me greatly for my next steps after Cal Lutheran. Working side by side with a geologist, geophysicist, and petroleum engineer has given me insight into the industry I couldn't have previously imagined. This experience is helping me prepare for graduate school.

Matthew Scipione '16
Connect with Cal Lutheran Students
Want to hear more about Cal Lutheran directly from our students? View the list of students below and click to start chatting!
Along with being accepted in graduate schools around the country, many Cal Lutheran geoscience majors have entered careers in petroleum geology, geophysics and the environmental geology fields.
In both the public and private sectors, geoscientists are hired to study groundwater pollution, earthquake hazards and landslides. They also work in the mining and petroleum industries or in research laboratories.
Our alumni study at:
California State University, Northridge
Northern Arizona University
Stanford University
Texas A & M
University of Michigan
University of Notre Dame
University of Nevada Las Vegas
University of Southern California
University of Texas of the Permian Basin
University of Wisconsin, Madison
Our alumni work for:
California State Parks
Cardno ERI
Exxon-Mobil
Fugro West, Inc.
Geolabs-Westlake Village
Grover-Hollingsworth & Associates, Inc.
Petrolog
Southern California Soil and Testing, Inc.
Trey Resources, Inc.
U.S. Bureau of Ocean Energy Management
Career paths:
Geologist
Staff Geologist
Geological Technician
Senior Geologist
Project Manager
Sample Catcher
of Cal Lutheran graduates find a job or enroll in graduate school within nine months
More Career Outcomes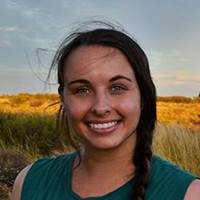 I really enjoy geology because the classes and field trips help me to better understand the world around me. Also, who wouldn't love a minor that requires them to go camping under the stars in Death Valley or along the coast in Morro Bay? Some of my fondest memories in college are with the geology department.
Danielle Rose '16
Want to learn more?
Let us know and we'll send you information about our academics, campus life, admission process, and more!