Physics
Bachelor of Arts
Bachelor of Science
Physics addresses the question of how and why things work.
Its inquiries span from the forces which govern subatomic particles to the large-scale phenomena which shape our universe as a whole.
Learn from all angles
Through a combination of interactive lectures, instructive demonstrations, and laboratory experiments, you will hone your knowledge and skills from multiple angles.
Build on a foundation of concepts and laws
A strong foundation in classical and modern physics and in applied mathematics is crucial to the scientific inquiries of physics. You will develop an understanding of the fundamental concepts and laws of physics and acquire familiarity with data acquisition and analysis instrumentation.
Model the world through mathematics
You will translate physical problems into mathematical models by analyzing the physical situation for dominant effects and describing those effects in terms of mathematical variables. You will then solve and interpret these problems using the tools of mathematics.
Experimentation is a key experience
You will employ the scientific method in the execution of experiments and the analysis of experimental results. Your experience will give you the opportunity and ability to work independently as well as engage in successful collaborations.
Get practical experience
Physics majors often participate in summer undergraduate research programs as well as internships with local industries. The practical experience these opportunities provide is invaluable, and we will heavily encourage you to participate in them.
Do original research — then present it
As a senior, you will apply both theoretical and experimental approaches in your capstone course, which culminates in an original research paper. This research is then often presented at a national meeting. Past topics of student research have included fluid dynamics, biomedical engineering, laser medicine, nuclear radiation, and digital communication.
Choose between a B.S. or B.A. degree
A bachelor of science degree serves as an excellent foundation if you are interested in graduate studies in physics or engineering.
A bachelor of arts degree allows you to explore the relationship of physics with another field of interest. Students choosing this option frequently pursue careers in medicine, law, or business.
---
Programs
Offered as a major (BA or BS) and a minor.
Popular Minor Pairings
Want to learn more?
Let us know and we'll send you information about our academics, campus life, admission process, and more!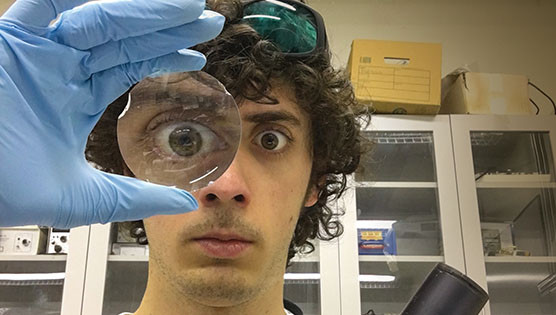 Physics is the primordial science that tries to understand and model the "why?", "how?" and "when?" of our universe. As a curious person, this everlasting quest for answers drew me to physics. At Cal Lutheran, the physics department gave me the instruction and opportunities to become a great experimentalist through numerous hands-on experiences.

Javier Berjon de la Parra '20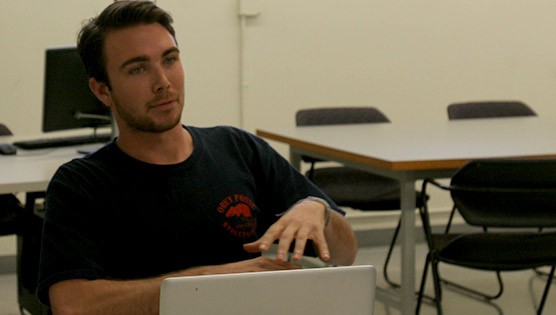 During my research, I created quantum simulations to observe the behavior and characteristics of the superconductive material strontium ruthenate. Something exciting I learned in the process was how this material behaves unconventionally compared to other known superconductors by exhibiting half-flux states.

Pierce Hening '16
Employers value the wide-ranging technical skills and problem-solving capabilities of physics majors. Technology firms, research laboratories, educational institutions, and the military regularly hire Cal Lutheran physics graduates.
Before pursuing their careers, many of our students attend graduate programs for physics, engineering, computer science, mathematics, or optical science.
Pursuing business, medicine, or law degrees are also viable options. Physics majors score well on the MCAT and LSAT, the entrance exams for medical school and law school.
Our alumni study at:
California Polytechnic SLO
Colorado State University
University of Arkansas
University of California, Los Angeles
University of California, Santa Cruz
University of Michigan
University of Nebraska, Lincoln
Vanderbilt University
Wake Forest University
Washington State University
Our alumni work for:
CrimePoint
Eaton
FzioMed
Intel
General Dynamics
Jet Propulsion Laboratory
Northrop Grumman
Shell
SmithGeiger
Skyworks Solutions
Sani-Tech West
Teledyne Scientific Company
Career paths:
Aerospace Engineer
Computer Hardware Engineer
Entrepreneur
High School Physics Teacher
Lawyer
Mechanical Engineer
Optical Engineer
Petrophysicist
Product Engineer
R&D Engineer
Radiation Health Officer
Software Engineer
Test Engineer/Fabricator
of Cal Lutheran graduates find a job or enroll in graduate school within nine months
More Career Outcomes
Want to learn more?
Let us know and we'll send you information about our academics, campus life, admission process, and more!