Get outside and explore the Earth.
This minor is an excellent complement to the environmental science major, but it's also a great opportunity for students in any major to get outside and investigate Southern California's unique geological features.
What you'll study
Your courses will involve both field trips and lab work, as this kind of hands-on experience is essential to the study of geology. You'll start by learning about the general processes that shaped — and continue to shape — the Earth. Later, you'll be able to study specialized branches of geology, including:
Paleontology – the study of prehistoric life through fossils
Geophysics – the study of the Earth's magnetic, gravitational, and seismic properties
Petrology – the study of the origin and composition of rocks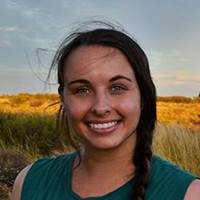 I really enjoy geology because the classes and field trips help me to better understand the world around me. Also, who wouldn't love a minor that requires them to go camping under the stars in Death Valley or along the coast in Morro Bay? Some of my fondest memories in college are with the geology department.
Danielle Rose '16
Popular Major Pairings