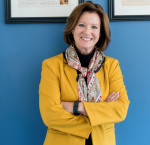 Jean Kelso Sandlin, EdD
Professor and Chair of the Communication Department
Office Hours: Tues. 8:30 am-9:30 am/Thur. 12:30-1:30 pm/Wednesdays via Zoom by appointment
About
Dr. Jean Kelso Sandlin joined the CLU faculty after more than 20 years of professional experience in advertising, public relations and journalism. Prior to joining CLU in 2007, she served as creative director for an agency in the Pacific Northwest from 2000. She has directed campaigns for nonprofit organizations, educational institutions, government development initiatives, environmental management companies, healthcare clinics and hospitals, and green retailers.
In addition to her agency experience, Sandlin has served on the staffs of nonprofit organizations, including United Way and the Oregon Children's Foundation. She has also served as a writer for the Times Picayune, the largest daily newspaper in New Orleans.
Sandlin was named to the Pacific Coast Business Times list of Who's Who in Clean Tech and Sustainability in 2010 and 2011.
In 2012, Sandlin was named CLU Professor of the Year. In 2013, she was awarded first place for Best Practices in Teaching With Tools and Technologies by The Association for Education in Journalism and Mass Communication (AEJMC). In 2021, she was awarded the College of Arts and Sciences Dean's Award for Scholarship/Creative Work for her research related to social media apologies.
She teaches courses in public relations and advertising.
Sandlin is a member of:
The Public Relations Society of America (current)

Immediate Past President, California Gold Coast Chapter 2017-2018
Founding President, California Gold Coast Chapter 2014-2017

The American Academy of Advertising (current)
The Association for Education in Journalism and Mass Communication (AEJMC) (2012-2016)
The International Communication Association (2012-2015)
The National Communication Association (current, and 2012-2014)
Education
Fellow, Academy for Innovative Higher Education, Georgetown University & Arizona State University (6th Cohort)
Doctor of Education, Higher Education Leadership, California Lutheran University
Master of Public Administration, California Lutheran University
Bachelor of Arts, Communication, California Lutheran University
Trainings and Certificates
Teaching Credential, (5th-12th) English Literature, Linfield College
DREAMer Ally Training
Vet Net Ally Training
Building Regular Interfaith Dialogue through Generous Engagement (BRIDGE) Training
Expertise
Dr. Sandlin's expertise includes public relations and advertising strategy, including the impact of social media.
Her research interests include authenticity, social media, digital storytelling, digital technologies and users' perceptions of digital messages. Her work explores the possibilities for using social media as a tool for enhancing learning, increasing nonprofit capacity, strengthening brand identities, and fostering positive change in areas such as environmental sustainability and healthcare.
Her primary research focuses on the perception of authenticity in social media. Her most recent project explores viewers' perceptions of sincerity and forgiveness of social media apologies of public figures.
Publications
Publications
Sandlin, J.K. & Gracyalny, M. (2020). Fandom, forgiveness & future support: YouTube apologies as crisis communication. Journal of Communication Management, March 2020, Vol. 24, No. 1, p. 1-18 https://www.emerald.com/insight/content/doi/10.1108/JCOM-06-2019-0096/full/html#abstract
Sandlin, J.K. (2019). All your clothes are made with exploited labor. In Brunner, B. & Hickerson, C. (Eds.), Cases in Public Relations: Translating Ethics into Action. England: Oxford University Press.
Sandlin, J.K. (2019). Coming home: The Los Angeles Rams connect to past to build future. In Burns, D. & Rentner, T. (Eds.), Case Studies in Sport Communication:You Make the Call.
Sandlin, J.K. & Gracyalny, M. (2018) Seeking sincerity, finding forgiveness:YouTube apologies as image repair. Public Relations Review. https://doi.org/10.1016/j.pubrev.2018.04.007
Sandlin, J.K. & Hinmon, D. (2016). Beyond baby steps: Today's use of social networking sites & the nursing profession. Journal of Perinatal and Neonatal Nursing, July/September 2016, Vol. 30 Issue 3, pgs 204-208.
Sandlin, J.K. (2016). Explaining ethics: Using the explainer genre to integrate ethics into advertising curricula. Journal of Advertising Education, Summer 2016, Vol 20 Issue 1-2. https://doi.org/10.1177/10980482160201-207
Sandlin, J.K. (2014) Geo-tagging and mapping in the cloud to foster research readiness and ethical cognizance in advertising students. Journal of Advertising Education, Fall 2014, Vol. 18 Issue 2. https://doi.org/10.1177/109804821401800204
Sandlin, J. K. & Peña, E. V. (2014) 39.333. Building authenticity in social media tools to recruit postsecondary students. Innovative Higher Education, 1-14.https://doi.org/10.1007/s10755-014-9280-9
Sandlin, J., (2013). The blog dress rehearsal: College identity, anxiety, and compatibility. Journal of College Admission (221), 38-45.
Sandlin was a regular contributor for Ragan's Health Care Communication News Team at healthcarecommunication.com and the Social Media Strategy blog for Hive Strategies through 2012. She has also contributed to Ragan's PR Daily.
Academic Conference Presentations
2023 March 2-4, 26th Annual International Relations Research Conference, Orlando, FL, When Good Guys Apologize Badly: Exploring Apology Delivery on YouTube, co-authored with Dr. Monica Gracyalny
2023 March 22-23, Institute for Public Relations Bridge Conference, Georgetown University, Washington, DC., Reputational Difference Impacts YouTube Apology Effectiveness, co-authored with Dr. Monica Gracyalny
2021 November 18th, National Communication Association, 107th Annual Convention, Seattle, WA, "Cues Over Content: The Effect of Comments on Audience Perceptions on YouTube Apologies."
2019 October 19th Public Relations Society Educator's Academy, San Diego, CA, PR Pathfinder: A First Assignment to Motivate and Retain First Generation College Students.
2019 March 22nd Annual International Public Relations Research Conference, Orlando, FL, Audience Characteristics & Perceptions of Public Figures' YouTube Apologies, co-authored with Dr. Monica Gracyalny
2017 October Public Relations Society of America, Educator's Academy, Boston, MA, Transparent Transition: An Auto-ethnographic Study of Piloting PR in a Blended Format
2017 March 20th Annual International Public Relations Research Conference, Orlando, FL, The Sorry State of Social Media: Analyzing Public Apologies, co-authored with Dr. Monica Gracyalny
2015 November Public Relations Society of America, Educator's Academy, Atlanta, Georgia, "Phone it in" Crisis Management: Teaching Crisis Management in a Mobile Game Environment
2015 October The Association for the Advancement of Sustainability in Higher Education, Minneapolis Minnesota, Transformative Partnerships: Replacing Consumerism with Community
2015 September Care for the Earth in a Global Society, The 80th Annual Association of Lutheran Faculties Conference, Pacific Lutheran University, Tacoma, WA, Strategies for Stewardship and Service in the Classroom: Consumerism Gets a Community Makeover
2015 May Blended Learning in the Liberal Arts, Bryn Mawr, PA, Comparing Learning from Blended and Traditional Lectures Across Disciplines in a Small Liberal Arts University, Cynthia H. DeMartino (Lead Presenter) and Jean Kelso Sandlin
2014 November National Communication Association, 100th Annual Convention, Chicago, Ill., The Ethical Explainer: Using the Explainer Genre to Teach Advertising Ethics, Research Readiness, and Multi-media Skills
2014 May International Communication Association Conference, Seattle, Washington, A Crisis in Hand: Exploring Mobile Technology to Engage Students in Public Relations Crisis Management Curriculum
2013 November National Communication Association Conference, Washington, D.C., Connecting Students to the Community via Technology: An Interactive Panel on Technology-Augmented Experiential Learning Practices
2013 August Association for Education in Journalism and Mass Communication, Washington, D.C., Fostering Research Readiness in Advertising Students Through Collaborative, Community-Based Geo-Tagging and Free Cloud-Based Tools
2013 May Western Association for College Admission Counseling, Irvine, CA, When Sameness Matters: Admission Blogs as Recruitment and Retention Tools
2013 February EDUCAUSE Learning Initiative, Denver, CO, Engaging Students in Community-Based, Collaborative Research Using Geotagging and Free Cloud-Based Tools
2012 October The Association of Lutheran College Faculties Conference, Minneapolis, MN, Engaging Students in Community-based, Collaborative Research Using Geo-tagging and Free Cloud-based Tools
2012 February EDUCAUSE West/Southwest Regional Conference, Portland, OR, Incorporating Ethical Issues Into Marketing Studies: Using Technology To Create Analytical Methodology
2010 February Digital Media and Learning Conference, La Jolla, CA, Stumbling into Authenticity: Is Admission Blogging the "Holy Grail" of Authenticity or a Cup Half Full? Assessing Perceived Authenticity in Institutionally Generated Student Blogs
2009 April Western Association for Schools and Colleges Academic Resource Conference, Hollywood, CA, Pioneering Change: Collaborating for Campus Sustainability
Community Presentations
2022 September Advertising, Technology and the Challenge of Privacy, University Village's Professor on Campus Educational Series, Thousand Oaks, CA
2019 April Why, When and How Your Nonprofit Needs to Apologize, Communicate Your Cause: A PR Workshop for Nonprofits sponsored by the California Gold Coast Chapter of the Public Relations Society of America and CLU's Center for Nonprofit Leadership, Oxnard, CA
2018 May News Releases: From Headline to Deadline, California Association of Public Information Officials, Thousand Oaks, CA
2018, May Hands-on Tools for Social Media Engagement, Communicate Your Cause: A PR Workshop for Nonprofits sponsored by the California Gold Coast Chapter of the Public Relations Society of America and CLU's Center for Nonprofit Leadership, Oxnard, CA
2017 September The Sorry State of Social Media Apologies, Thousand Oaks Rotary, Thousand Oaks, CA
2017 April Content Creation & Curation for Social Media & Other Digital Platforms, Communicate Your Cause: A PR Workshop for Nonprofits sponsored by the California Gold Coast Chapter of the Public Relations Society of America and CLU's Center for Nonprofit Leadership, Oxnard, CA
2014 February Dancing or Drowning in Data: How the Digital Revolution Impacts Our Daily Lives, University Village Men's Club Speaker Series, Thousand Oaks,CA
2011 February Social Media is Like Trying to Drink from a Fire Hose: Go Ahead Take a Sip, City of Westlake Village, CA, Community Speaker Series
2009 April Cereal Killer: Milking Your Power & Influence, Conejo Future Foundation Youth Congress